Christmas Village in Philadelphia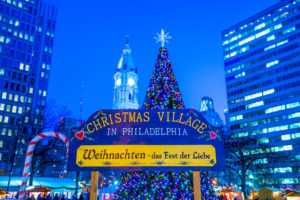 Christmas Village in Philadelphia (http://www.philachristmas.com/) is back for its 10th anniversary season. I visited the Christmas village on Black Friday and it was simply magical. The event started on Thanksgiving Day and runs daily through Christmas Eve. Philadelphia's LOVE Park (15th and JFK Boulevard) is transformed into a traditional open-air German Christmas Market.
There's fun shopping for international and local gifts and decorations, lots of food and drinks, live music and cool children's activities, including photos with Santa Claus. Admission is free!!
New surprises for 2017 Holiday season:
Dog Fridays with specials for our furry friends
Meet St. Nikolaus and get your boot filled with treats
Guided tours through the market for senior citizens
New mascot Phil, the 10th reindeer of Santa
Anniversary weekend with a huge birthday bash and a cake sponsored by Whole Foods
New vendors
New restaurant partnerships for HoHo Happy Hour with The Little Lion, Dim Sum House, Tir Na Nog and Revolution Taco
Collector Mug with a new design for 2017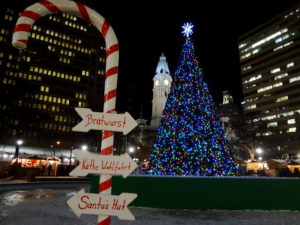 Theme Weekends
Theme weekends will be filled with music, performances and entertainment. Full schedules and additional info can be found here: http://www.philachristmas.com/events
November 25 and 26 – Opening Weekend
December 2 and 3 – 10th Anniversary Weekend
December 9 and 10 – German American Weekend
December 16 and 17 – Charity Weekend with Make-A-Wish® Foundation
December 23 and 24 – Christmas Weekend
Love Park – 1500 Arch Street, Philadelphia, PA 19102.