Our Summerlin Vacation Rental Home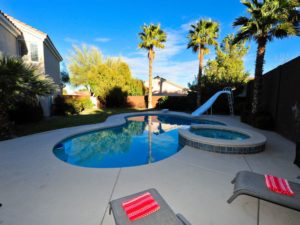 We just went on a family vacation to the Las Vegas area. Since we were 7 guests and had two kids ages 11 and 13, we didn't want to stay on The Strip, so we opted for a vacation rental home in nearby Summerlin. Here's a link to the house we rented for a week.
There are several things we loved about this rental, including:
We liked that it was near enough to The Strip but far enough from it also. The neighborhood was quiet but near major highways. It was also close to tennis courts and great golf courses. For me, it was near a renowned spa where I took a $6 Uber to get a massage.
The backyard was ideal for a large family getaway. The pool is super with its diving board and slide – kids loved it. At night, there were lights that changed colors in the pool and hot tub that were so relaxing! The kids are avid basketball fans and the court was the greatest for them. My golf-crazed hubby practiced his putting on the brand new putting green. There were plenty of pool toys, basketballs, putters and golf balls also.
The kitchen was huge and included everything this cooking aficionado could have dreamed of. From pantry items like spices, coffee and paper goods to small appliances like a crockpot, a blender and even a toaster oven, this was a dream kitchen and I enjoyed cooking and grilling almost every night (there are numerous restaurants nearby and delivery menus if cooking on vacay isn't your thing).
The amenities were super like premium bedding, plenty of towels – both bath and pool, tons of pillows and more. There was laundry detergent and we did a bit of laundry during our stay.
There is a double car garage with a remote door opener where we could park our car to keep it cool(er).
We could not be happier with our stay in this ultra-clean home. The host was there to greet us, even with our flight being 2 hours late. She walked us through how things work (TVs, pool, hot tub, etc…) and was great at communicating with us during our stay.
We highly-recommend this house and look forward to staying here again.
Cheers,
Veronique