Hotel Ivy, a Luxury Collection Hotel in Minneapolis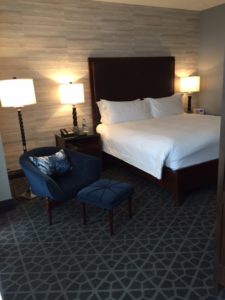 I've been a frequent guest at Hotel Ivy in downtown Minneapolis when I've traveled to my company's headquarters. The hotel is outstanding on many levels: service, accommodations, location, amenities. The property is centrally-located near the convention center.
About Hotel Ivy
This luxury Starwood hotel incorporates the historic Ivy Tower and features 136 rooms with 21 luxurious suites. The staff is polished, warm and helpful. The lobby is simple and classy and is where the check-in desk and the lounge are. The hotel offers meeting space also.
About the Rooms
While there are several room categories to select from, I've always stayed in the Superior Room which is the hotel's "entry level" room. The room design is much like the whole feel of the hotel – understated elegance. It's about 400 square feet and features a soothing color palette of creams and blues accented by dark wood. There's a sitting area, a desk perfect for getting some work done, an ultra-comfortable bed with premium linens and a flat screen television. There's also a clever custom armoire that creates a sense of division between the bathroom, wardrobe area and bedroom. The bathroom is tiled in limestone and offers both an enclosed glass shower and deep soaking tub. I opt for a king bed but a two queen bed layout is also available.
By the way, the hotel is pet-friendly.
About the Amenities
I've taken advantage of three of the hotel's amenities while visiting: the spa, the lounge and the fitness center.
The Spa Club is luxurious without being showy. It features 14 treatment rooms offering specialty massages, body treatments, facials, nail services, and more.
The lobby lounge is named Venetia and features creative mixologists who make drink that rival any of the hippest bars in town. There are also many wines by the glass and a fun beer list, including local favorites. There's a great happy hour daily from 3PM – 7PM.
There are also a restaurant, the very popular Monello, serving classic Italian fare.
Ivy Fitness Club is beyond a business traveler's hotel gym dreams. The club has more than 5,000 square feet of state-of-the-art fitness equipment. There are also classes (more to come in a separate post).
Address: 201 S 11th St, Minneapolis, MN 55403
Phone: (612) 746-4600
Happy travels,
Veronique